Two officers deliver baby in parking lot when mom can't make it to hospital
Simply put, life happens when you least expect it. Two officers from the Stockton Police Department know that better than anyone, having helped to deliver a baby in the police parking lot last Sunday.
It was 7:46 am on Sunday, September 27, when a Stockton PD Officer was flagged down by a man at Washington St/El Dorado St. The man approached the officer and told him his wife was having a baby.
The woman in question, sitting in the front passenger seat, was in the process of giving birth. Her husband asked the officer if he could take her to hospital, Stockton Police Department explained on Facebook.
The quick-thinking officer told the man to park into the Police Department's front lot and called an ambulance.
He then tried to calm down the couple during what must have been an incredibly tense time. As fate would have it, however, the baby couldn't wait to come into the world – the mom's waters broke while they were waiting for the ambulance.
No sooner had two more officers, with medical experience, showed up, than did the baby decide it was time. Fortunately, the officers were on hand to deliver the baby themselves.
Mom and baby were taken to the hospital and are both doing well.
Woman unexpectedly gives birth at Missouri Walmart
As per reports, another woman in Springfield didn't make it to the hospital time either. That incident took place last March, and saw the woman in a Missouri Walmart when her waters broke.
She alerted store employees, warning them that her previous child arrived in 30 minutes, so there might not be much time.
Luckily, there happened to be a labor and delivery nurse who was shopping nearby and she came over to assist.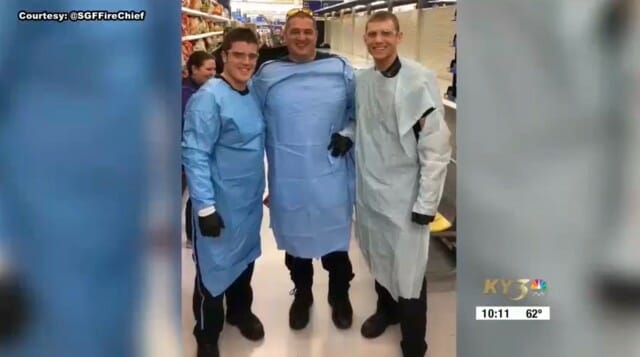 Springfield firefighters then arrived to help deliver the baby and within 45 minutes the woman had birthed a baby girl. You can read that full story here.
A huge thank you to these wonderful heroes for helping to deliver the babies!